buy blackjack table
How To Build A BlackJack Table
Several years ago I built a blackjack table from scratch. It took around 10 hours to build using only 2 people. The total cost was probably around $75-$100.
Here are some pictures of the finished product: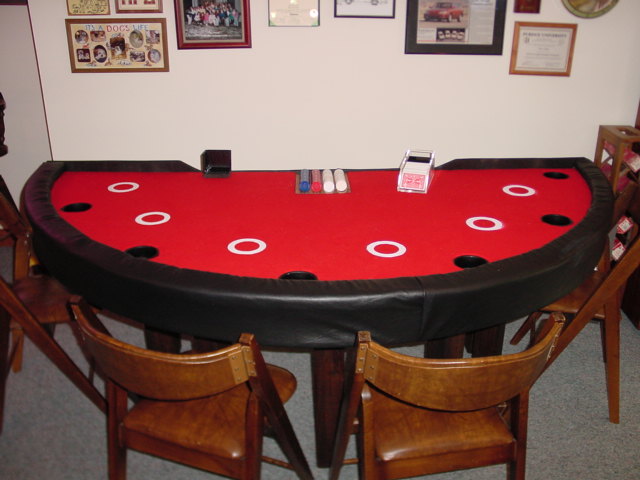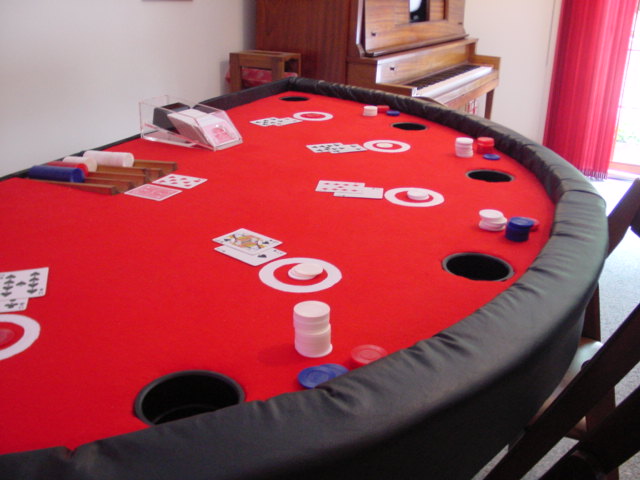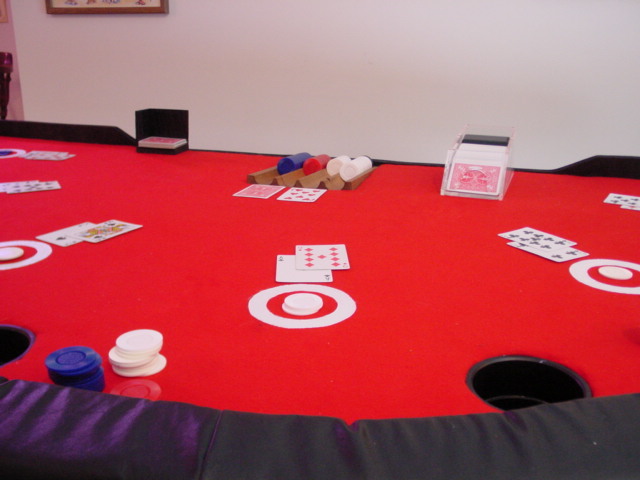 2 sheets of 4'x8'x1/2" (or thicker) particle board or plywood
4"x4"x8' lumber - 4 pieces
6 3" PVC pipe couplers (Not needed for moveable cupholders.)
1 block of wood approx. 6"x8"x2" (for chip rack - optional)
1 box of wood screws - probably #8 or #10 and 3" long
1 quart of "brush-on" construction adhesive
1 quart of dark stain (your preference - used on the legs)
8'x8' piece of carpet padding. The smoother the surface the better
8'x8' piece of felt. Red and green are the most common colors to use.
8'x3' piece of "fake leather" material. Look around the craft store for ideas.
8'x3"x3" piece of foam (stiffer is better - size doesn't have to be exactly 3")
Several small cans of paint for tabletop markings
1 can of flat black spray paint(Not needed for moveable cupholders.)
Stencils (store bought and/or homemade) for tabletop painting.
1 Black Marker & pencil
Jigsaw
Handsaw
Staple Gun (w/ staples!)
Power screwdriver (drill w/ screwdriver attachment)
Drill & various size bits
3" paintbrush (for the adhesive)
Artists brushes (for design work on the table top)
Cut both sheets of plywood into 3' radius circles. This is best done by taking a 3' length of string, pinning it to the middle of one of the long sides of the plywood, and swinging it in a arc, marking the path with your marker as you go. After the semicircle is drawn, cut it out carefully with the jigsaw. Save all scraps.
Your cuts won't be perfect. Line the two semicircles on top of each other. If they're not a good fit, flip one over to see if that makes them fit better. Once they're lined up, write "TOP" in marker on the top of each of the two sheets so you keep them oriented together. (DON'T mark the bottom! - it will be visible.)
There will be six "betting positions" on the table. On the top piece, divide the semicircle into 6 equal pie slices, each of 30 degrees (or, 18.8" arc length) I recommend actually drawing the pie slices with the marker.
If you have the block of wood for a chip holder, mark off a rectangle in the middle of the flat side to perfectly hold this block. This will be immediately in front of the dealer.
Mark off a region 3" (or, equal to the width of your foam piece) from the edge of the semicircle
In each "pie slice", draw a circle 1" from the right edge of the pie slice and 2" from the 3" semicircle line drawn in the previous step. Make these circles exactly the size of the OUTER diameter of your pipe couplers. These are going to be the cupholders. (see diagram for how your markings should now look). (For moveable cupholders, you can skip this step.)
Using the jigsaw, cut out the chip-rack rectangle
Drill a large hole in the middle of each cupholder circle and using the jigsaw, cut them out. (For moveable cupholders, you can skip this step.)
Measure the height of your PVC fittings and the width of THE TOP PIECE of plywood/particle board. (For moveable cupholders, just assume the PVC fittings are 4 inches tall.)
Spray paint your PVC fittings (cup holders) now and let them sit to dry. (For moveable cupholders, you can skip this step.)
Cut 4 or 5 "spacers" from your 4"x4" pieces of lumber. The length of each spacer should be the height of the PVC fittings MINUS the width of the particle board.
If you need, sand down the spacers so they're all flat-topped and exactly the same height.
Lay the spacers fairly evenly around the bottom semi-circle, making sure it will NOT match up with a hole cut out of the top semi-circle. This diagram shows a sample arrangement.
Using very exact measuring, mark on the BOTTOM SIDE of the BOTTOM semi-circle where the spacers will be.
Drive 2 wood screws through the bottom side of the bottom semi-circle upwards into each spacer.
You want the top of your table to be around 32" high - but figure this out for your own application. Then figure how long you need your legs to be. Take the tabletop height minus the spacer height minus the widths of BOTH pieces of plywood minus the width of your carpet padding. Carefully cut the 4"x4" pieces to EXACTLY these lengths. You should end with 7 legs.
On the TOP of the bottom semi-circle, mark where you want your legs to be positioned. I highly recommend you put them on the border of each pie slice drawn on the top semi-circle, since this will ensure that no table leg is directly in front of a betting position. Also, make sure the spacers aren't in the way!
Drive 2 wood screws downward through the BOTTOM semicircle into each leg.
You now have a standing table. Is it sturdy? Are the legs of equal length? Do you need to sand down any legs to make them the right length?
CAREFULLY measure the location of each spacer on the bottom semicircle and mark their location on the TOP of the top semicircle.
Lay the top semicircle on top of your lower semicircle and its spacers.
Drive 2 wood screws downward from the top of the top semicircle down into each spacer
Spray black spray paint through the cupholder holes down onto the lower piece of plywood so that when you look straight down through the cupholder holes, you only see black. (For moveable cupholders, you can skip this step.)
You'll want some sort of "back" to your table along the long flat side, where the dealer stands. I recommend taking a scrap piece of your plywood and cutting it to cover the gap between the two semicircles and also to stick up about an inch or two above the playing surface. Make sure that it doesn't stick up directly in front of the dealer's position, however. Also, if you cut some well-placed holes, you can use the "dead" space in the table as storage for money, chips, cards, etc. If you want to get fancy, you could install small drawers in there! I also recommend painting this piece before you attach it to the table, and definitely don't attach it until the carpet padding and felt are installed! See the following picture for how I made mine.
To be honest, I don't remember what tool I used to make the chip rack. I think it was a horizontally-mounted drill press. You can see mine in the above pictures.
Measure the diameter of the chips you'll be using.
Carefully drill out circular grooves in your block of wood that will perfectly hold a stack of chips
It's easiest to drill the grooves all the way through the block of wood and then screw a flat "end piece" onto one end so that the chips don't fall out of the groove.
Use your own creativity here. If that fails, go buy one!
Cut your carpet padding to cover the top of your table. Don't worry about the cupholder holes.
Paint adhesive over the entire table top and over the entire bottom of the carpet padding. Carefully lay the padding onto the table.
Carefully cut out the holes for the cupholders in the padding. (For moveable cupholders, you can skip this step.)
Get the felt ready. Cut it to size, leaving a couple of extra inches hanging off each side of the tabletop.
Pull the felt tight over the table and staple it to the edges with the staple gun.
For the cupholders, do NOT completely cut out the felt over those holes. Instead, punch a small hole over the center of each hole and cut several slits extending from that small hole outward to the edge of the cupholder hole. This will enable you to fold the felt down into the hole. (For moveable cupholders, you can skip this step.) Use the same method for the chip rack hole.
Shove the painted PVC couplers down into the holes. They should fit very tight and hold the felt in place. Since you painted the wood below black, the interior of the cupholder should be entirely black. I also glued a piece of black "fake leather" at the bottom of the cupholder to make it softer at the bottom. (For moveable cupholders, you can skip this step.)
The armrest is the most difficult part. Start at one corner of the table and lay the near edge of the fake leather upside-down just an inch from the edge of the table. Staple it down. Lay the foam over these staples and wrap the material up around the foam and stretch it all the way down to the bottom piece of plywood. Staple it to the bottom of the table. See the following diagram to see how this is done and the following picture to see how the result should look.
Keep moving slowly and carefully around the table. If you do lots of stretching and are very careful, you can keep the material from bunching up (it's difficult to make a straight piece of material fit to a semi-circle!) Have someone else help you. They can keep the material stretched and taut while you staple it to the bottom. (For moveable cupholders, you need to make sure to put a few gaps between the staples for the little metal wedge of the cupholder to slip into. One gap per betting position makes sense.)

Universal Blackjack Table
Scripted Powerups: The feature I am most proud of. There is a list of power-ups. Each power-up has a "who9quot; and an "effect9quot;, with the possible options being spelled out in the script. Using those, you can create a fairly wide variety of power-ups. Set one power-up to "Other Player" with the power of "Swap9quot; and you can exchange your hand with someone else by dropping that power-up type into another player's card zone. Or instead make the effect "Clear9quot; to delete their hand. Or "Redraw9quot; to delete their hand AND draw a new one. Or "Clone9quot; to copy their hand to yours after removing your cards. Or "Draw 1" to make them draw an extra card. Or change the who to "Dealer Only" and now you can enact all those same powers onto the dealer instead, but not other players.
Mini-games are not included, but that is sort of the idea behind this table. It isn't full of someone else's toys. It is a platform for you to build your own, even if you can't script. Personalize it. Change the table surface, add in mini-games. Add displays with power-ups or fancy save chests to "buy9quot;. The "skeleton9quot; that you need to build it all is already there and (I hope) easy to access. Add your own features and personality, make it yours. I appreciate a credit somewhere, but once you start building on it, it becomes yours.
340 results for casino blackjack table
Save casino blackjack table to get e-mail alerts and updates on your eBay Feed.
Unfollow casino blackjack table to stop getting updates on your eBay Feed.
You'll receive email and Feed alerts when new items arrive.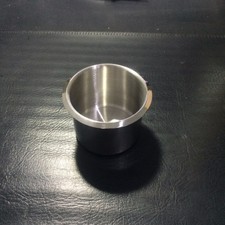 5x Cupholders Cart Drink Steel Casino Drop-In Cup Holder Poker Blackjack Table
C $37.16
Buy It Now
Free Shipping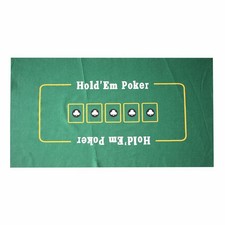 Portable Cover Sealed Poker Table Top Green Mat Pad Blackjack 24" x 36" Holdem
Texas Holdem + Blackjack Casino Layout Felt (2-Sided 36"x72") Table Cover Gaming
C $28.50
Buy It Now
+C $17.93 shipping
10-Player Poker Table-Portable Casino-No Assembly Require-Blackj ack
C $372.21
or Best Offer
+C $63.02 shipping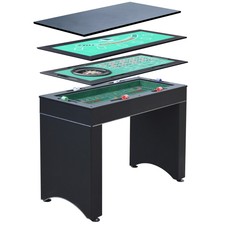 Casino Game Table 4-in-1 Roulette Blackjack Craps with Full Set of Accessories
C $542.77
Buy It Now
+C $95.34 shipping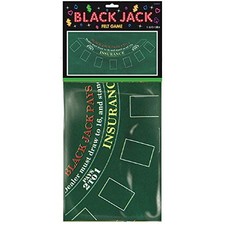 Blackjack Casino Party Table Cover, Felt, 6'.
C $32.52
Buy It Now
+C $27.53 shipping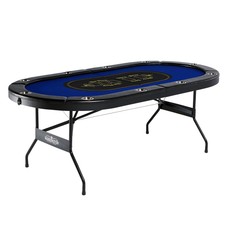 Poker Table 10 Players Texas Holdem Blackjack Casino Padded Rails Proffesionl
C $443.23
Buy It Now
+C $224.41 shipping

Blackjack Roulette 24"X 36" Green Felt -2 Sided Vegas Table Layout New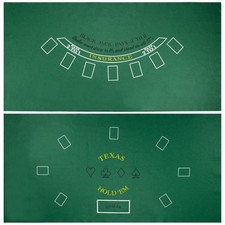 Poker Texas Holdem Blackjack Table Top Mat Pad Cover Layout Casino Felt 2 Side
C $25.40
Buy It Now
+C $22.88 shipping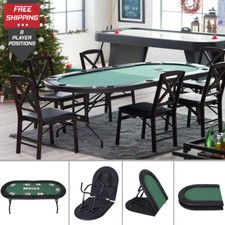 Portable Poker Table Casino Arcade Games Player Texas Holdem Blackjack Card Play
C $161.55
Buy It Now
+C $15.38 shipping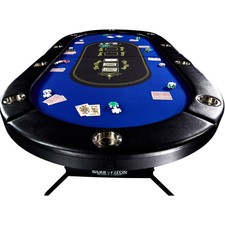 10-Player Poker Blackjack Table Barrington Casino Style 10 Built-in Drink Holder
C $379.61
Buy It Now
+C $63.11 shipping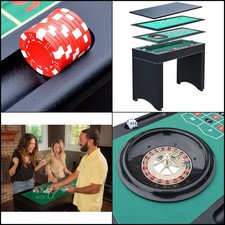 Adults 4-In-1 Multi Game Casino Table with Blackjack Roulette Craps Bar Table
C $631.68
Buy It Now
+C $249.28 shipping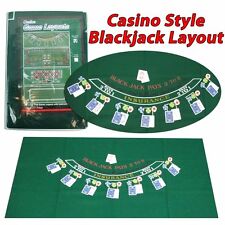 Blackjack 36 x 72" Layout Table Top Green Mat Portable Cover Felt Casino Game
C $13.55
Buy It Now
+C $24.33 shipping

New Brybelly Blackjack Craps Table Top Card Portable Felt 72 x 36 Casino
C $29.58
Buy It Now
+C $15.15 shipping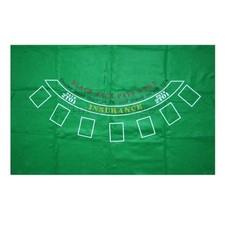 Blackjack Poker Table Layout Cover Poker Table Cloth Casino Layout New
C $28.73
Buy It Now
Free Shipping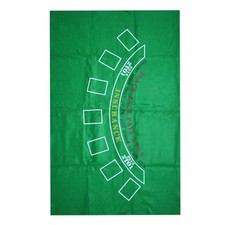 Blackjack Texas Table Layout Cover Poker Table Cloth Casino Felt Layout
Casino Table Game 2 Sided White Rules Sign "21" Blackjack Split Double Down
C $10.28
or Best Offer
+C $30.24 shipping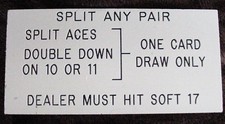 Casino Used White Table Game Rules Sign Twenty-One Blackjack Split Any Pair
C $10.28
or Best Offer
+C $30.24 shipping
BLACKJACK CRAPS Table Top Mat Pad Casino Card Game Black Felt 2 Sided Layout #54
C $37.95
or Best Offer
+C $76.82 shipping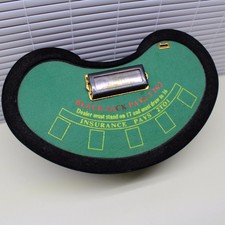 Royal Casino Black Jack Miniature Gaming Table Collectors Item #02894
C $110.01
or Best Offer
+C $30.09 shipping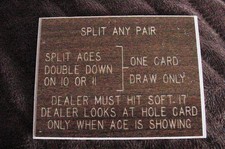 Casino Table Game Rules Sign Twenty-One Blackjack Game Split Any Pair
C $12.86
or Best Offer
+C $30.24 shipping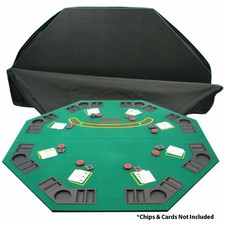 Trademark Poker Deluxe Solid Wood Poker & Blackjack Table Top w Case Casino Top
C $99.05
Buy It Now
+C $46.57 shipping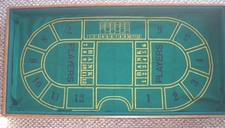 VTG 4 Games WOODEN Table 3' Craps Blackjack Roulette Baccarat Casino 70s? 80s?
C $180.16
or Best Offer
+C $47.56 shipping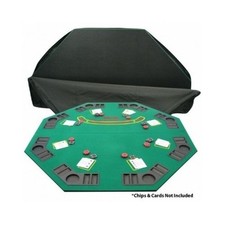 Poker Table Top Blackjack Octagon Folding Texas Holdem Game Casino Cup Holders
C $55.64
Buy It Now
+C $46.04 shipping

Poker Table Top Indoor Game Room Furniture Casino Blackjack Accessories 1/2 Wood
C $87.39
Buy It Now
+C $46.43 shipping
Black Felt Poker Blackjack Table Top Foldable 8 Player Casino Holdem 300 Chips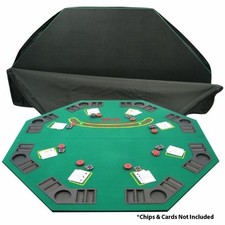 Poker Table Top Blackjack Casino Wood Folding Board Premium Quality With Case
C $68.19
Buy It Now
+C $57.69 shipping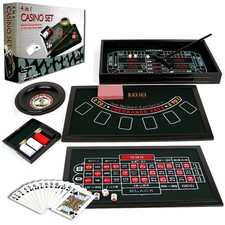 4-in-1 casino game table roulette craps poker blackjack new
C $61.77
Buy It Now
+C $21.30 shipping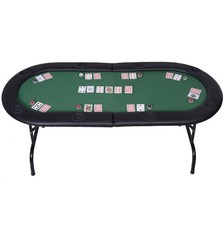 8 Player Folding Poker Table Top Texas Holdem Blackjack Card Casino Play Table N
C $167.25
Buy It Now
+C $47.41 shipping

Casino Game Table Roulette Texas Holdem Craps Blackjack Cards Poker Chips Dice
C $72.05
Buy It Now
+C $88.18 shipping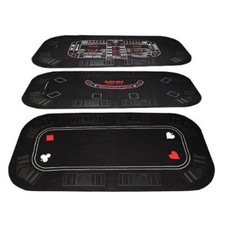 3 in 1 Texas Hold'em Table Top (Poker/Craps/B lackjack) Casino style felt New!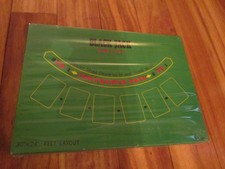 Authentic Blackjack Green Felt Table Top Layout Las Vegas Style Casino Home Game
C $32.16
Buy It Now
+C $25.47 shipping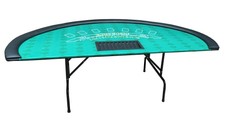 (2) Blackjack Tables 84" x 42" folding metal legs green dye sub print black jack
C $868.62
Buy It Now
+C $350.25 shipping
Black Jack Casino Table Top Layout w Carrying Case New Tabletop 6x3 Blackjack
C $90.07
Buy It Now
+C $20.05 shipping

Blackjack Poker Layout Table Top Mat Pad Cover Casino Card Game Green Felt Board
C $24.44
or Best Offer
+C $23.25 shipping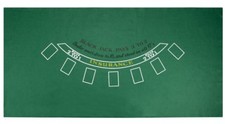 Brybelly Blackjack Green Table Felt Play Casino Game Home Travel Free Ship
C $24.37
Buy It Now
+C $19.08 shipping
BLACKJACK CRAPS Table Top Mat Pad Casino Card Game Black Felt 2 Sided Layout
C $20.35
or Best Offer
+C $80.29 shipping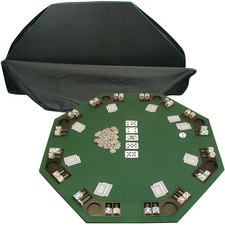 Trademark Deluxe Casino Top Poker Craps & Black-Jack Card Game Table Top w/ Case
C $79.05
Buy It Now
+C $89.68 shipping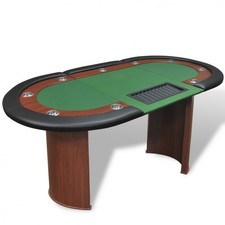 10 Player Poker Table Blackjack Racetrack Cup Holders Dealer Area Game Gaming
C $454.95
Buy It Now
+C $64.03 shipping
BLACKJACK CRAPS Table Top Mat Pad Casino Card Game Black Felt 2 Sided Layout
C $25.49
or Best Offer
+C $80.42 shipping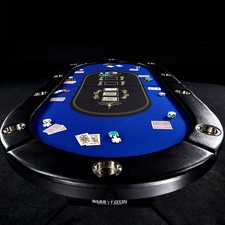 Texas Holdem Poker Table 10 Player Folding Blackjack Felt Built In Drink Holders
C $375.22
Buy It Now
+C $63.06 shipping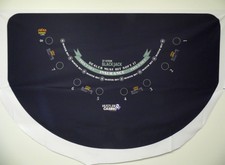 Oversize Blackjack Table Layout -8-Player - Blazing 7's / Buster Bet - NEW
C $77.15
Buy It Now
+C $35.97 shipping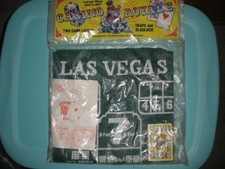 VTG CASINO ROYAL TABLE TOP GAME FELT CRAPS BLACKJACK LAS VEGAS DUNES
C $32.17
Buy It Now
+C $36.21 shipping

NEW Monaco - Blackjack Table Layout - Green - MADE IN THE USA
C $101.66
Buy It Now
+C $34.65 shipping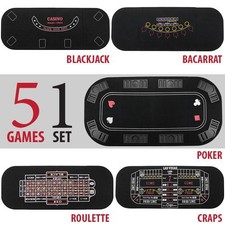 Poker Black Jack Craps Roulette Baccarat Table Top Felt 5 Casino Games New Poker
C $167.28
Buy It Now
+C $67.01 shipping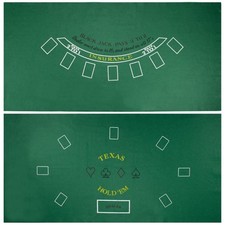 Poker Texas Holdem Blackjack Table Top Mat Pad Cover Layout Casino Felt 2 Side
C $22.51
Buy It Now
+C $22.88 shipping
Blackjack - Poker Layout Table Top Green Felt Casino Card Game W/Free Shipping
C $21.86
Buy It Now
+C $86.86 shipping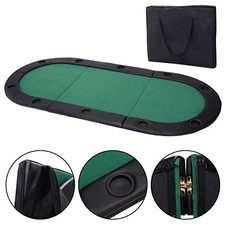 10-Player Poker & Blackjack Tri-fold Table Top With 10 Built-in Cup Holders
C $126.42
Buy It Now
+C $239.48 shipping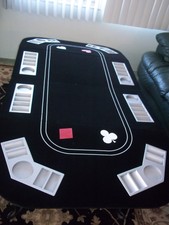 New listing Black Jack Poker Table Top Foldable 8 Player Portable with Cup Holders 3 in 1
C $51.46
0 bids
+C $90.36 shipping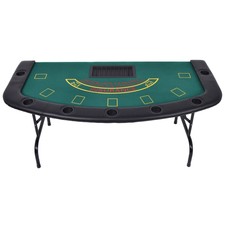 Giantex Folded 7 Player Pocker Blackjack Table Texas Holdem Car Game W/ ChipCup
C $326.78
Buy It Now
+C $62.46 shipping
Sellers with highest buyer ratings
Returns, money back
Ships in a business day with tracking
Learn More
Sellers with highest buyer ratings
Returns, money back
Ships in a business day with tracking
Learn More
The Blackjack Table & the Different Elements
The Blackjack Table & the Different Elements
Whether you play blackjack in a live casino or online, a blackjack table is pretty much designed the same way. Almost everything about the way a blackjack table is designed serves a purpose in the game. We're going to take a look at the blackjack table and break down the different elements to help you understand how the table itself is an important part of the game.
First, let's examine a few various parts of the table:
Chip Rack—This is where chips used in the game are kept. When a player buys in to the game he is given chips from the rack. When a player wins a hand he is paid from the rack. When a player loses a hand his chips are taken and returned to the rack. Whenever a table is not in use the chip rack is kept covered and locked. The dealer stands right behind the chip rack during play.
Currency Slot—Cash is rarely used in a live blackjack game. Players use chips to buy cash. When the player gives the dealer money to buy chips, the dealer then places the money in the currency slot.
Shoe—The shoe is where the cards used in the game, anywhere from four to eight decks, are held and dealt from. The rear of the shoe holds the cards and the front of the shoe is lightly sloped to allow a dealer to slide out one card at a time. A yellow card is used to indicate the point in the show when the dealer must reshuffle the cards.
Betting Circles—The squares in front of each player seat are called betting circles. This is the area where a player places their bet and also the area where their cards are dealt. In a multi-deck blackjack game it is not permitted for the player to touch the cards or their bet once it has been placed in the betting circle. You will notice in the picture we have provided that there are five betting circles, meaning that the table can accommodate five players. Some blackjack tables can accommodate as many as seven players.
First Base—The seat at the blackjack table known as First Base is the seat to the immediate left of the dealer. This player always receives his/her cards first and is always the first to act on their hand. First Base is a great seat for a card counter because they have more time to see all the cards that come out after their own. This can be a huge advantage in maintaining an accurate count.
Third Base—The seat to the immediate right of the dealer is referred to as Third Base. The player in this seat is always the last to receive cards and the last to act on their hand. As such, it is a very strategic position. It is always preferable to have an experienced blackjack player in the Third Base seat because their actions can often affect the outcome of play. An inexperienced player sitting in Third Base may hit his hand when everyone else has stood and take a card that would have caused the dealer to bust.
How Many Players Can Sit at a Blackjack Table?
If you are playing online then you will likely be the only player at the table, but the table will look the same. You can even play more than one betting circle if you choose to do so. You can also do this in a live casino if the table is not full. In most live casinos the blackjack table can seat seven players, but some larger casinos have tables that seat nine players!
What Does the Writing on the Blackjack Table Mean?
A player will usually see three things written on the felt of the blackjack table:
Blackjack Pays 3-2. This is to remind players that a blackjack is paid off at higher odds than a total of 21 or any other winning hand. To qualify, a player must be dealt an Ace and a Ten (10, J, Q, K) with their original two cards. Making 21 by taking a hit does not qualify as a blackjack.
Dealer must stand on 17, and draw to 16. This writing will tell you the rules set by the casino for the dealer. Some casinos require the dealer to hit a "soft"17, so always pay attention to this writing on a blackjack table.
Insurance Pays 2-1. This writing is usually enclosed in an arc that sits in front of the betting circles. If a player wishes to take insurance when the dealer shows an Ace, they slide their insurance bet into the arc.
Some other writing you may see on a blackjack table. You may also encounter words such as Surrender or even betting boxes that are labeled Royal Match or some other side bet. Always pay attention to the writing on the blackjack table. It is presented in accordance with state regulations that require the casino to be transparent about the rules of the game. Also, you will typically find a small placard that will tell you the table limit.
Some Topics that may interest you: riting
blackjack tables 0 ? hotKeyText.join(' ') : ''">
Kein Artikel gefunden
Keine Suchergebnisse für "blackjack tables".
Beste Anpassung
Preis (Niedrig zu Hoch)
Preis (Hoch zu niedrig)
Bestellungsnummer
Bewertung des Verkäufers
Zusätzliches Datum (Neu zu Alt)
Kategorie 0 ? "" : "Irgendein")'> Irgendein